Podcast: Play in new window | Download | Embed
If you're reading this, then you're interested in building a home that performs well. And if you want a home that performs well, you can't rely on the Building Code to achieve this. This is because, in my opinion, the Building Code has very little to do with sustainability or actually building a good home.
About the Building Code
The New Zealand Building Code is the first schedule of The Building Act 2004, and the Code consists of the standards that a building needs to meet. The Code contains a number of clauses, each of which relate to a specific issue, covering everything from structure, internal moisture, natural light, sound insulation and energy efficiency.
It's in these Building Code clauses where the details are stated regarding the specific requirements of a building.
Building Code Administration
The Building Code is a central government document. However it's the local authorities, usually your local Council that has the role of implementing these rules on the ground.
When you or your builder lodges an application for building consent, this is done through your local Council. And the building inspector who comes to visit a building site will generally come from, or on behalf of, the local Council.
A full list of Building Consent Authorities is available here: http://www.building.govt.nz/bca-register
The Code and Building Performance
The New Zealand Building Code is a 'performance-based' code, but don't let the word 'performance' fool you. This just means that the code is not prescriptive. That is, it doesn't require walls, roofs, windows etc. to be designed and built in a certain way. It does however require that those elements are built in such a way that some performance criteria are met.
MBIE (the Ministry of Business Innovation and Employment), who are now responsible for the Code, state that:
"The Act aims to improve control of, and encourage better practices in, building design and construction."
That, and the comprehensive list of areas considered under the act, sound great. That should be water-tight, (literally and figuratively) right?
The Building Code in Reality
My area of expertise is mostly confined to Clause H1: Energy Efficiency, so I'm going to restrict my commentary to this. H1 is important because it's the bit that relates to keeping warm.
The biggest problem we routinely see in the industry is that H1 is seen by most builders and designers as the target, when in fact it's only a bare minimum.
As an example, here are the minimum requirements for R-values for a standard, timber-framed house:
| Building Element | Climate Zone 1 (Northland, Auckland, Franklin and Coromandel) | Climate Zone 2 (The rest of the North Island, excluding the Central Plateau) | Climate Zone 3 (All of the South Island and the Central Plateau) |
| --- | --- | --- | --- |
| Roof | 2.9 | 2.9 | 3.3 |
| Wall | 1.9 | 1.9 | 2.0 |
| Floor | 1.3 | 1.3 | 1.3 |
These are very basic and can easily be improved on. Consider, for example, popular suppliers such as Mammoth and Terra Lana. They have wall products for standard 90 mm framing, rated at R 2.5 and R 2.2 respectively. Tasman produce a 90 mm product (Pink Batts Ultra) with an R-value of 2.8. These, and other suppliers also offer a range of even higher rated products available for 140 mm studs.
Surpassing the minimum requirements of the Code is relatively easy and should be part of your design brief.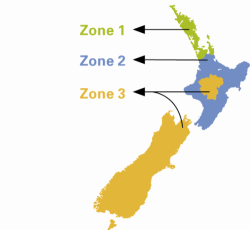 Three Climate Zones
The second risk with only considering Code compliance is that the climate zones are quite big. All of the South Island for example is Climate Zone 3. This means that Invercargill and Queenstown have the same minimum requirements as sunny Nelson. Exactly the same house will comply in both places.
Don't settle for this broad-brush approach to design. You deserve a home that is designed to suit your local climate and conditions.
Building Quality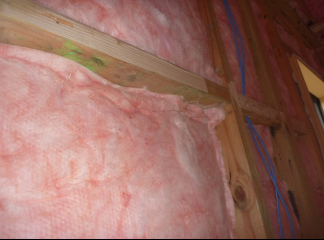 The third significant problem with the Code is really one of enforcement, or quality control. If you think that the average council inspection will ensure that insulation is installed correctly, well think again. In fact, I would strongly recommend that the day (or days) when the insulation is due to be installed in your house, would be a very good day for you to be on site.
The insulation under the slab, inside the walls and in some parts of the roof, may never be seen again. Once the concrete's poured or the walls are lined, it's going to be covered up. You're paying for the material, and you're going to be paying for keeping the house warm, so you definitely want to ensure that the insulation gets done well.
And here's the scary bit. An EECA funded research project from 2010 found a 100% failure rate in the quality of insulation installations for brand new homes. That's right, not a single new house out of 58 assessed, passed their inspection.
So if you can't trust the Building Code to deliver a good outcome, who can you trust?
How to build better than Code
Find a designer who goes well beyond code. If you've having to explain things like thermal mass and solar orientation to the designer, consultant or builder, then find someone else! If you're getting pushback trying to convince your builder that they can increase the wall thickness to 140 mm and that it's not a silly idea, even if you live in the North Island, then find a different builder.
Use a Homestar Assessor to provide a Design Rating for your plan. You can use this to weigh up your options and consider the cost-benefit of going beyond code.
Be there to see it go in. Think of the thermal envelope like a complete wrap around the whole house. Any holes, even small ones, will dramatically impact the overall effectiveness. Treat insulation like weather tightness. It's literally the same concept in that you're aiming to avoid leaks. It's definitely one are where it pays to be pedantic because you're only going to get one shot at it.
Please note that the, as with all the content on Home Style Green, this is my opinion based on my experience. It does not represent the views or opinions of any past, present or future employer. 
References and Related Reading