Podcast: Play in new window | Download | Embed
Chris McKay and his family were forced to leave their home in Christchurch after the Canterbury earthquakes in 2011. Like many others, they were faced with the task of finding a new home and they chose to start from scratch and to build. Early on the process, they decided they wanted to have a warm home and they also wanted to have no power bills.
Check out my interview with Chris in episode 40 of the Home Style Green podcast in iTunes.

What Makes the Home Warm?
The main features that make the house really warm and comfortable include: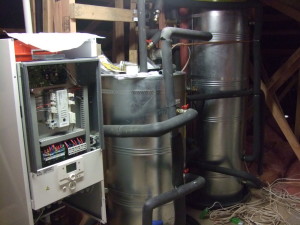 Site selection and design to face to the sun – this was the key, first element.
Fully insulation concreted slab – Chris used a pre-coated material from Long Plastics in Belfast for insulating the edge of the concrete slab.
Theramally broken aluminium joinery for the double glazing.
Standard faming on most walls, except where thicker wall were required to accommodate the thicker profile of thermally broken frames of sliding doors.
Double layer of ceiling insulation, with the top layer laid in the opposite direction to the first layer in oder to eliminate thermal bridging through the joists and framework.
No Power Bills
The photovoltaic (PV) solar panels are a big feature of the home. They even influenced the site selection, layout of the house and pitch of the roof.
In designing the system, Chris opted for solar PV both for all their energy needs, including space heating and water heating. For both heating purposed, Chris used a heat pump water heater. This, he calculated, would offer a better return and offer better year round service than relying on solar hot water.
The house a three Enasolar inverters to run the roof top arrays and Chris exports back to the grid for which he is rewarded by Contact Energy.
Resilience
Having survived an 2 major earthquakes, thousands of aftershocks and all the associated loss of utility services like power, water supply and sewerage, Chris is as keen on resilience as he is on sustainability. This has already proven a worthwhile strategy with heavy storms disrupting the power supply to West Melton at least once since moving in.
A backup generator is a key feature of resilience. The main purpose of the generator is not so much about powering the house directly, but allowing the inverters to function.
Many people assume that simply having solar panels on the roof, mean you're self reliant. This is not always the case. In normal circumstances, you might be self-sufficient, but nearly all grid-tied inverters have a safety mechanism to shut them off if there's no live current on the feed in line. This is a precaution for the lines company so that when they turn the power off or there's a failure in the network, they don't get any nasty surprises from someone who's generating and keeping those lines live.
To keep on generating while the sun is shining but the network is down, you need some way to supply a current to the inverter.

Picture Perfect
I hope to put on more photos of Chris' great example of a beautiful family home that literally costs them nothing to run.
In the meantime, check out more inspiration from Chris' other passion – photography, at Chris McKay Photography