What's a great way to build a house quickly, with nearly zero waste and at a reasonable price? Prefab of course! And Metrapanel is a prefab solution created and produced right here in New Zealand since 1994.
Who is Metrapanel?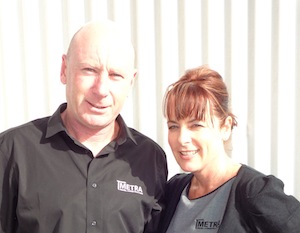 The original company was started in 1994 by Melissa Savage's father, Les Wykes. The current company has been owned and run in Huntley by Andrew and Melissa Savage since 2007.
Melissa is now the Business Manager for the company and I spoke with her about why they do what they do.
What is Metrapanel?
At it's most basic level, Metrapanel is a high density particle board. But Metrapanel the company offers much more than that. In fact they offer whole houses.
Standard internal walls can be made to size and pre-cut with openings for doors. And because the structural elements of a traditional wall are provided in a pre-finished, 36 mm thick wall, up to 6% more floor area can be obtained in the overall house.
Metrapanel as a SIP
Metrapanel can be formed as a Structural Insulated Panel (SIP). A SIP can be used to make exterior, structural walls with added advantage of insulation being included. In the case of Metrapanel, this is achieved with a layer of Black Pearl polystyrene sandwiched between two layers of the particleboard. Using this system an R-values of up to 6.0 can be created for exterior walls (more than three times the required R 1.9 for walls).

How to get a Metrapanel House
Metrapanel produces houses through range of registered installers throughout the country. Some of the available house plans are shown on the Metrapanel website, or you can look up a list of installers to find one near you.
Some installers, like Builtsmart, event show their available range of plans, with prices shown.