Podcast: Play in new window | Download | Embed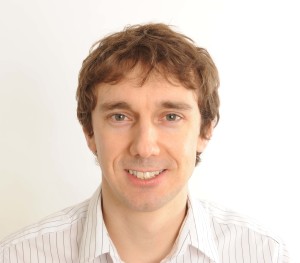 Ben Adam-Smith first appeared on Home Style Green back in episode 17, almost a year ago. After this, I was inspired and motivated by what Ben is doing and wanted to stay in touch. So I did. Now he's back to share his learning from year 1.
Ben and I have chatted nearly every week via Skype about our respective projects and to discuss building trends and sustainability issues on either side of the planet.
I thought it was about time I got him back on the show so you too could benefit from some of Ben's learning about creating a good home for himself and his (soon to be) family.
EcoBuild 2014
A big part of asking Ben on this week, was to ask him about "the world's leading event for sustainable design, construction, energy and the built environment" – EcoBuild.
It turns out that during his recent, and third visit to EcoBuild, Ben didn't have too much exciting news to report back on, because he spent most of his time networking.
This is a really valuable lesson in itself. The value of a show like EcoBuild, particularly for someone familiar with the industry, is in the opportunity to meet people, rather than see new products and services.
What are you doing to increase your professional network?
Aside from EcoBuild 2014, we did have plenty of other things to discuss. Here's a summary of what Ben's been thinking about.
 5 Things Ben Has Learnt About Building a Better Home
Ben created House Planning Help to share the learning of his own journey towards making a better home. Here's a summary of some of the main points he's learnt so far.
1. What Makes an Energy Efficient House.
Key factors include:
Scale
Fabric first
Simplicy
Natural Material
2. Dealing with Constraints and Compromise
There will alway be more that you could do. More efficiency. Less impact. But at what cost? Does being super resource efficient mean you have to have a tiny space? Does being simple, mean your house will be boring? What compromises might you have to make?
I counter this view by proposing that good design might be the antidote of a lose-lose compromise.
3. Building New versus Retrofitting the Old
Some existing houses get some things right. Especially if you consider embodied energy. There is a risk that a newer, larger home may consume a lot more energy and resources than an older, smaller house.
I think this is dependent on the situation. Ben might be moving from a solidly built, small terrace house that probably keeps relatively warm, and 'upgrading' to a larger, lighter-weight free standing house. This is a different proposition than a typical 'upgrade' in New Zealand from a cold, old uninsulated light-weight building to a newer, better insulated, more airtight one. But both moves will consume resources.
Ben also discussed the issue of proximity to amenities, and using iMeasure to compare energy consumption and carbon emissions with other households.
4. Houses don't use energy – humans do.
I love this quote. We are the polluters. Making our homes more efficient is one thing, but lifestyle is the other side.
This is the fundamental reason Ben hasn't had a bath for a year. This year he's planning on cutting down his consumption of meat. Although I did explain that New Zealand lamb probably has a lower carbon footprint than UK lamb.
5. Population Growth
This can get a little overwhelming. I choose to accept that there are going to be more people, so the imperative is for us to use our valuable resources wisely. If we design, build, and live well, there's more than enough energy, water, food, (and fun) for everyone.
Ben's Book: Why Most People Don't Build Energy-Efficient Homes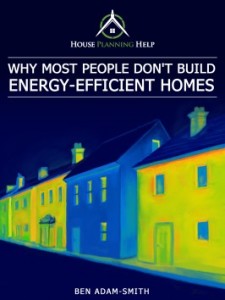 Although Ben doesn't come from the building industry, he's become very educated in the past 12 months. So much so that he's written a book about his journey. Combined with regular blogging, podcast, using social media and attending networking events, Ben is building his authority and becoming an expert.
What are you doing to increase your authority? If this sounds a bit too hard, please do get in touch. I'd love to see if I can help out. If you're a good designer, I truly believe that the world needs to know about your work, and I'd like to help.
In the meantime, be sure to grab yourself a copy of Ben's Book: Why Most People Don't Build Energy-Efficient Homes.