Podcast: Play in new window | Download | Embed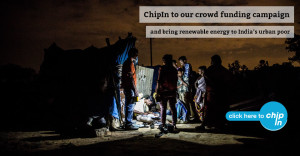 A couple of weeks ago, I shared my interview with Monique Alfris from Pollinate Energy. This inspiring organisation has teamed up with another inspiring organisation, Chip In, to start a campaign where you can contribute as little as $5 to help their cause.
That's about the price of an incandescent light bulb! So go on, while you're making your home a healthier, better place to be, now there's an easy way to chip in and help ease fuel poverty elsewhere in the World.