I'm lucky to be working in a building just walking distance from the Viaduct and  Wynyard Quarter in Auckland. Today in particular, this meant I could stroll down past the million dollar boats to attend the release of the Auckland Unitary Plan.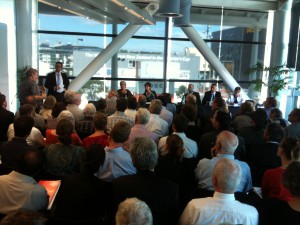 In short, this plan is the plan to unite all plans. It's plan that brings together all the previous councils in to one unified being, now and for the future. The key objective is the lofty and worthy goal of making Auckland, "the world's most livable city".
There's a lot in the Auckland Unitary Plan about sustainability and 'green' (see Introduction, part 1.5).  And there's a lot in there about housing.
I think the council has done a pretty good job with draft and this sentiment was echoed in the packed seminar room at the Viaduct Events Centre this afternoon. Comments from the audience commending the council on their general ambition to go 'up' rather than 'out', gained applause.
I was also impressed by another passionate call from within the crowd that encourage the Council to decouple affordability from land availability. The freeing up of greenfields (land which is currently farm land or not built on), is a hot topic and often prescribed as the antidote to unaffordable houses. But as was correctly pointed out during the session today, there are many other factors contributing to high housing costs, not least of which is the product supply chain here in New Zealand.
The purpose of today's event, which will continue into the weekend, was to introduce the plan to all of Auckland and to formally start the consultation period.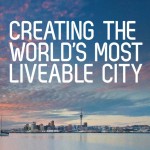 Deputy Mayor Penny Holst did a fine job today of sharing her genuine desire to hear from all of Auckland. I also want to briefly mention Ngarimu Blair from Ngati Whatua o Orakei. He spoke extremely well and I'm really interested to learn more about the needs for a variety of different housing types to suit a variety of different family structures and cultures.
So this is where we all need to get involved. Have you say!
The plan is all available in electronic form here. So get involved and I'd love to hear your thoughts.