Podcast: Play in new window | Download | Embed
Something a little different this week. I've had some excellent questions sitting in my inbox for a while and I thought that many could benefit from them. Here's just a sample.
Got similar questions? Please get in touch and if I can't help, we'll put the word out to find someone who can.
Got a better answer than mine? This is highly likely as I'm not the expert in all areas, and there are often multiple good solutions to any given problem. Please jump in below with your ideas in the comments section (especially if I've got anything wrong!)

Also, don't miss your chance to win a $20 Amazon voucher! Take five minutes to answer this short survey before November 14th and go into the draw!
Homestar
"I am going to be working with a client who has the Homestar rating 7 in mind and thought I should run [the] plans past you."
MCW: Definitely! I'd love to help if you have any Homestar related questions. I can assist from registration right through to final certification. Get in touch via email or the contact form.
Thermal Mass
"The lower floor [of our design] is concrete slab but no mass in main living level.  Any suggestions for achieving this in a cost effective manner?"
MCW: Adding thermal mass in light weight construction can be tricky. I do know of cases where it has been done with a screed layer on top of timber. To be effective, it needs to be about 100 mm thick and ideally somewhere where it'll get direct sunlight. Otherwise, thermal mass is only useful if you have the means of heating and maintaining to a relatively constant temperature. If a big chunk of concrete is allowed to cool, it then becomes a heat sink, before it becomes a useful source. It's a big thermal flywheel.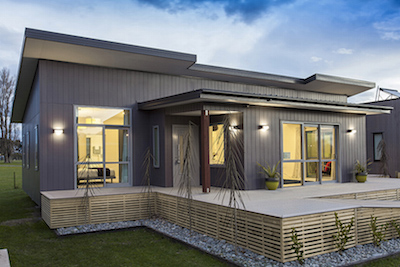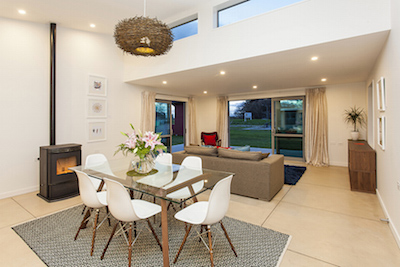 In the First Light House, they used a thick concrete slab as a kitchen bench top to introduce thermal mass into their timber structure. Others use exposed brick or stone walls. In my interview with Verena Maeder (http://homestylegreen.com/earth-building/), we discussed how mud bricks and earth building can be used as an effective and aesthetic means of adding some thermal mass.
Heating & Cooling
"Thinking of a gas ducted fireplace but reasonably happy we'll be able to cool the house in summer except in the Office (myself and one staff member) thus thinking of a wall mounted heat pump in there."
MCW: Providing you've got good insulation, the type of heater you chose is secondary, (provided it's not an unflued gas heater). It'd be nice to control summer conditions more with external shading and cross flow ventilation rather than needing to rely on mechanical cooling. And if you do need to provided some assistance, start with a simple fan. This uses about 10% of the energy of an air conditioner.
Affordable, Eco-Friendly Houses
"…we are living in Roxburgh and I would love to chat to you about affordable and eco friendly houses…"
MCW: That's what I started Home Style Green for! If you're in the design stage and would like an independent chat, please get in touch.
"…we had plans drawn up to rebuild in a new configuration but decided not to proceed for a number of reasons, mostly the cost & it didn't take advantage of the sun. We thought it would be easy to find plans for a small energy efficient place (wrong). I'm looking into sips panels."
MCW: For small, energy efficient homes, have a look at Ecotech Homes? Other options include Wiki House, Box Living, and CABA. Alternatively, choose a good designer with experience at this sort of thing. Lesley England (Auckland), Bob Burnett (Christchurch), Guy Shaw (Wellington) and Jessica Ayers (Wanaka) are my suggestions for a starting point.
More
Got more questions? Or answerers? Please leave a comment below, or get in touch.