Podcast: Play in new window | Download | Embed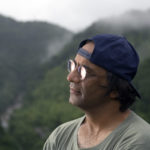 Hitesh Mehta
I originally contacted Hitesh Mehta to talk about sustainable landscape architecture, but he offers a lot more than that. Hitesh has travelled the world advising and helping designers of ecolodges. He enjoys all aspects of architecture as well as photography, environmental planning and writing.
To find out more about his recent work, visit Hitesh Mehta Design.

Authentic Ecolodges
You can find Hitesh's book, Authentic Ecolodges on Amazon.