Podcast: Play in new window | Download | Embed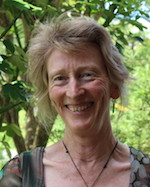 It was a privilege to talk with Robin Allison about her journey of creating and growing Earthsong Eco-Neighbourhood.
Robin turned to architecture as a choice of profession because she saw how powerful and important good architecture can be. I find this incredibly inspiring, and I'm not even an architect (although this thought makes me seriously consider becoming one).
Like many people who have travelled or have grown up with an awareness of the way we live, Robin was dissatisfied with the status quo; not just in the design of our individual houses, but how our suburbs reinforce separateness and isolation because our houses don't inter-relate to each other.
What is Earthsong?
Founded by Robin and her team in 1995, Earthsong is a cohousing eco-neighbourhood. The 32 individual homes and common buildings have been 'grown' within a 1.2 hectare garden in Ranui, just 20 km west of central Auckland. Earthsong embraces and demonstrates principles of permaculture and social and environmental sustainability.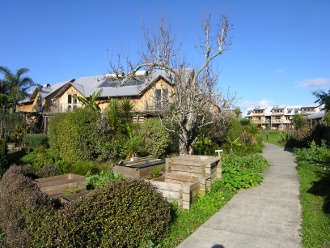 What's Cohousing?
For some people, the concept of cohousing might be daunting. It's definitely not to be confused with 'commune'. My friend Ben Adam-Smith did a great interview on House Planning Help about co-housing and there are numerous books on the subject.
For the definitive resource, check out cohousing.org, or Earthsong's own very good cohousing information.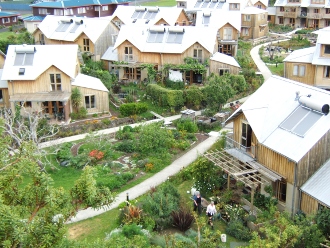 What can we learn from Earthsong?
Earthsong was conceived nearly 20 years ago, was 8 years in construction and has been fully completed for 5 year now. I think this makes it one of the most successful, eco developments in New Zealand. So I was very keen to find out from Robin how any lessons from Earthsong might transfer to other new or even existing developments. I was inspired by Robin's answer. Check out the interview to hear more.
Can you envisage cohousing, or just better community design in an existing or new community somewhere near you? Leave a comment below with your thoughts. What would it take?
Want to find out more?
The best place to find out what Earthsong is really like, is at Earthsong! Fortunately the lovely people their open their space for scheduled, public tours four times each year. They also run presentations and tours on request, tailored to the specific interests of the group.
Book Recommendation
Robin's book recommendation is Pocket Neighborhoods: Creating Small-Scale Community in a Large-Scale World