Podcast: Play in new window | Download | Embed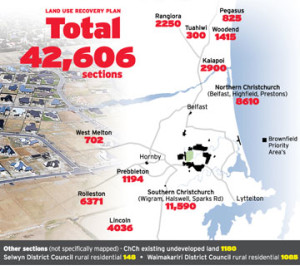 Is Christchurch in the process of making a big mistake? Surely not intentionally. But the front page of the Press last Friday did look a lot like urban sprawl. Is there another way to describe 40,000 homes being built outside the current city boundary?
This is the vision of the Land Use Recovery Plan. Affectionately known as the 'LURP'.
It seems that there's a significant push for greenfield development in Christchurch as well as in Auckland. While the motivation in Auckland is largely for 'affordable housing', the need in Christchurch is for stable and available ground. Speed and urgency are important for both.
I'm definitely not a fan of urban sprawl. But I do fully acknowledge the need to people to get into safe, warm homes as soon as possible. Is there a viable alternative to mass greenfield development beyond the current city?
Associate Professor Susan Krumdieck thinks there is. I was fortunate to be on a late flight back last week and was able to visit my old university a attend Susan's public lecture 'From the Ground Up'. This was an inspiring account of a vision and a plan for what could become 'New Riccarton'.
Coincidently, I'd been at the Green Property Summit a few days earlier, where I was equally inspired by the Ecodistricts  created in Portland, Oregon. I couldn't help thinking that the vision for Portland that began 20 years ago, was not unlike the picture painted by a sea of Post-it notes in Canterbury following the earthquakes. The overwhelming intention of the city was green and sustainable.
Lloyd EcoDistrict: A Commitment to a Sustainable Future from Former Mayor Sam Adams on Vimeo.
Urban sprawl is neither green, nor sustainable.
I don't know what answer is for Christchurch. But I urge everyone to not lose sight of the question. What sort of city to you want to create?
Visting http://www.developingchoices.org.nz/ to have your say.
 Related story: