Podcast: Play in new window | Download | Embed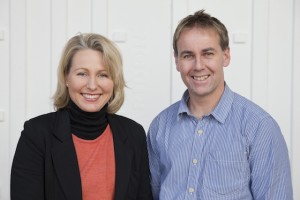 According to kiwi inventor Stephen Pinkney and his partner Christina Gomes, there are four good reasons to use Aridon when building a house.
At the most fundamental level, Aridon is a new type of wall insulation made from moulded expanded polystyrene. But there's more to this inovation.
Click here to listen to the interview in iTunes or Stitcher Radio.

What does Aridon do?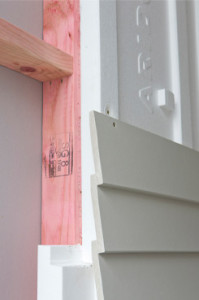 Aridon can perform four functions at once:
It's insulation. Aridon is rated to provide an construction R-value of 2.3. This is higher than the low code requirement of 1.9 and is due to both the very good insulating properties of polystyrene and the dramatic reduction in thermal bridging achieved when Aridon panels are installed on the outside of timber framing. 
It's a wrap. The polystyrene panels form an air barrier around the building, therefore eliminating the need for another building wrap material and restricting undesirable airflow through the wall.
It's a batten and cavity. Due to the shape of the panel, the moulded ridges take the place of battens and form a cavity inside the chosen cladding.
It's temporary weatherproofing. Aridon is approved for use as weatherproofing during a build. This means that after taking a day or two to put it up, internal work such as wiring and lining can get underway even before the final cladding is in place, potentially saving weeks on a build.
Why was Aridon Developed?
Stephen worked for 18 years as a consulting structural engineer. During that time working in New Zealand and overseas, he grew convinced that there must be a better way of doing things. Like many kiwis, Stephen was concerned about the cold, draughty, leaky houses we build and live in. Unlike a lot of others, Stephen and Christina put their concern into action to do something about it.
The Need for Speed
Prefabrication was one of Stephen's inspirations behind the design of the product and one of the promises of prefabrication is speed.
When I spoke with Stephen and Christina, they told me that the looming mass shortage of housing, particularly in Christchurch and Auckland, was another key reason for bringing Aridon to the market. We need to build houses faster without compromising on quality and their hope is that Aridon will help achieve this.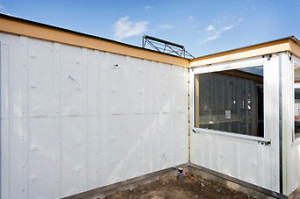 Is Polystyrene Green?
I questioned Christina about the selection of polystyrene. I know many people are concerned about the environmental impact of the manufacturing process. Others are also concerned about the waterproof longevity of it.
Then there's what to do with it after its useful life as insulation
After talking with Stephen and Christina, I'm pretty convinced that they got these issues pretty well covered. They're certainly aware of them, and more than happy to discuss the material selection.
Check out my interview to hear more, including why it's called 'Aridon'!

Find out More about Aridon.
The Aridon website is well written, easy to navigate and packed with information and pictures. It's well worth checking out for more information.
Another great place to touch, feel and talk about Aridon will be at Buildnz | Designex. (Coincidently, this will also be a good place to find me next week, at the Homestar stand, so come and say hi if you're in Auckland. I'm also presenting on stage at 2 pm on Sunday 23rd June.)
Recommendations
Finally,here are some of Stephen and Christina's book recommendations.
They admitted to being avid Grand Designs fans, so definitely stock up on some Kevin McCloud DVDs and grab a copy of his book from Amazon if you haven't already.
And here's another great story direct from some other great kiwi entrepreneurs. Every Bastard Says No: The 42 Below Story.